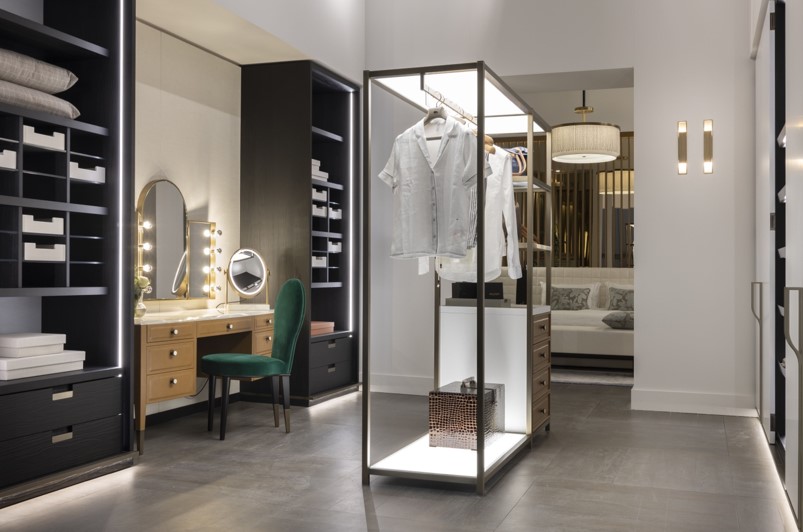 When entering their home, the first thing people wish is to take off their overcoats or jackets and feel at ease. In many countries, it is also customary to change into more comfortable shoes. This is precisely why furnishing the entrance area properly becomes exceptionally important.
For those seeking a touch of luxury in their homes in addition to comfort, a customized walk-in closet proves to be an excellent choice. Recognizing the crucial role of a well-designed entrance, Bellavista Collection brand strives to meet diverse demands for exquisite pieces, specifically tailored for entry halls.
Bellavista Collection showcased remarkable bespoke walk-in closets among its Italian luxury furniture at the Salone Internazionale del Mobile exhibition in both 2022 and 2023. These remarkable furniture sets combine functionality with elegance, providing homeowners with a stylish storage solution that exudes real sophistication.
2022: TROUSSE
Designed in 2021, the walk-in closet named TROUSSE, came to light at the Salone del Mobile in June 2022 as the quintessence of elegance and practicability. By the way, the French word TROUSSE stands for 'a case with compartments to store a set of objects'.
The story of this piece traces back to the early days of 2021, when Bellavista Collection's design department started an extremely interesting project: they wanted to create a bespoke walk-in closet with an island, tailored to the needs of a particular client. Of course, they met the client's requirements to a tee.
TROUSSE embodied the dream of a personalized dressing room, where every element was tailor-made. The bespoke wardrobe and island served as prime examples of not just elegance, but also smart use of space, which is a crucial aspect in such environments.
This exclusive walk-in closet boasted captivating design solutions, such as a concealed exit door, integrated within the wardrobe module. Additionally, the a large mirror on the entire outer surface gave the wardrobe doors a brilliant touch. To enhance the client's convenience, the wardrobe had a special custom-made eyeglass holder, and a foot-measuring ruler was ingeniously incorporated into the shoe rack. As for the island, it featured additional drawers and practical holders for socks, ties, and belts. Thus, the entire project revolved around the utmost convenience for the future owner.
As a rersult, this extraordinary piece became a prototype for future pieces, to meet the steady demand for this type of furniture.
2023: HAMILTON and VINCENT
During the latest edition of the Salone del Mobile that took place in April 2023, visitors of the Bellavista Collection's exhibitor booth could see one more sophisticated walk-in closet. It was composed of several wardrobes, based on the model called HAMILTON, and of the glass-and- metal central island named VINCENT. The metal structure, combined with extra-clear glass walls of VINCENT looked somehow minimalistic, yet really elegant.
The four HAMILTON wardrobes, used for the ensemble, were different: two of them were rather classic-looking, with front doors, while the other two, with compartments for shoes, looked more like open cabinets.
The variants of HAMILTON, the free-standing wardrobe, showcased at the Salone del Mobile 2023, differed from the variant you can see in Bellavista Collection's online catalog. No wonder: this wardrobe was designed as a greatly customizable piece.
Let's take a look at the basic model of HAMILTON. You can order it for your home at any time from the brand's website. What is more, it comes in a great variety of options, so that you could choose the combination, which suits you best.
HAMILTON wardrobe is a part of the 2020/2021 collection. Its wooden structure is veneered with carbone larch both outside and inside. As to the front doors, their outer sides are covered with beautiful finish called Bellavista Nuances, offered in a number of colors to choose from.
The standard version of the wardrobe features four doors, two shelves, made of solid wood, and two hanging pipes, padded in saddle leather. The metal details are made of cast brass with antique bronze finish.
What makes HAMILTON special is that you can choose its handles yourself out of the thirteen ones available from the catalog. To see them, open PRODUCTS in the main menu and choose HOME DECOR category. This category is divided into three sub-categories named MIRRORS, BELLAVISTA DETAILS, and HANDLES.
When you open HANDLES sub-category, you will see that all of the handles are called MAN and numbered from 02 to 14. In spite of similar names, the handles' designs are different indeed.
For example, the front doors of HAMILTON wardrobes, showcased at the Salone del Mobile 2023, have handles with thin elongated shape; you can find them in the catalog under the name MAN-11. They are made of laser-cut metal with antique brass finish.
However, if you look at HAMILTON's image on the website, you'll notice quite other handles on its front doors: they are round-shaped and decorated with an image of a four-leaf clover, a well-known symbol of good fortune. These handles are made of cast brass with antique bronze finish. So are the d drawer unit handles; by the way, bear an engraved outline of a hippopotamus, which is Bellavista Collection's long-lasting mascot. In the brand's catalog, this handle is named MAN-05.
All these handles, as well as all other metal details for every furniture piece (not to mention cast brass sculptures that have become the company's hallmark), are cast in the brand's own foundry.
Besides, HAMILTON is offered with a great number of optional details and modules, which enable you to customize this piece to the great extent. For example, you can equip this wardrobe with LED lights. You can opt for a drawer unit with three wooden drawers, padded inside with natural linen. Or would you like a module with five drawers and three open cubbies? Bellavista Collection always offers its customers an opportunity to choose among multiple options and even have a furniture piece designed from scratch. With such an approach, every customer is happy – and so is Bellavista Collection brand.
Related Posts