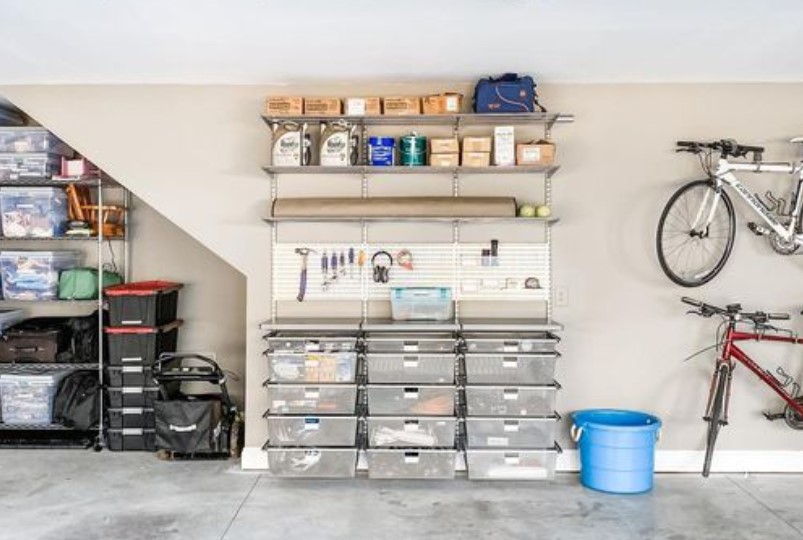 If you own a one-car garage, you know how quickly it can fill up with everything but your car.  If you want to be able to protect your vehicle from the elements and also have enough space to do home projects, follow these tips for organizing a small garage.
Invest in Moveable Storage Units
Before you begin, purchase the right tools. A workbench with drawers or cabinets underneath to store items is a great space saver for any small garage. Install industrial steel caster wheels so the bench can easily be rolled from one place to another for special projects or as a holding area for your tools when you work on the car.
Move Everything Out
The easiest way to organize your space is to take everything out and sort smaller items into piles. This is the method Marie Kondo suggests and it's the simplest way to force yourself to look at every item and determine if it's worth keeping. Donate or sell what you don't need to clear up space.
While the garage is completely empty clean the walls and scrub the floor to get rid of any grease spots. Remove excess clutter by either selling items or donating them to a thrift store.
Add Pegboards to the Walls
Store items vertically to save square footage. Add pegboards to the walls to store all of your tools so you can see them and find them easily when you need to work on a project.
Add Shelving
Plenty of shelving is crucial for an organized garage. Use them to store bulky items, such as gas cans and buckets. When storing items on your shelves, sort them first according to their utility so they are easy to find when you need them.
Install lower shelves by the door to store umbrellas and muddy shoes so you don't track dirt into the house and so you have rainy weather items on hand when you need them.
Invest in Rollout Bins
Install rollout bins along the walls so you can store cleaning supplies and rags. That way you have them on hand to clean up any spills you make.
Get Storage Containers
Invest in mason jars and use them to store smaller items. Use larger bins for other things. Add labels to each container to make it easier to know what's inside.
By following these tips, you'll have a pleasant area to work in that inspires you to finally tackle home projects you've been putting off for too long.
Related Posts